Plywood shipping crate, box, or pallet? Compare Shipping Solutions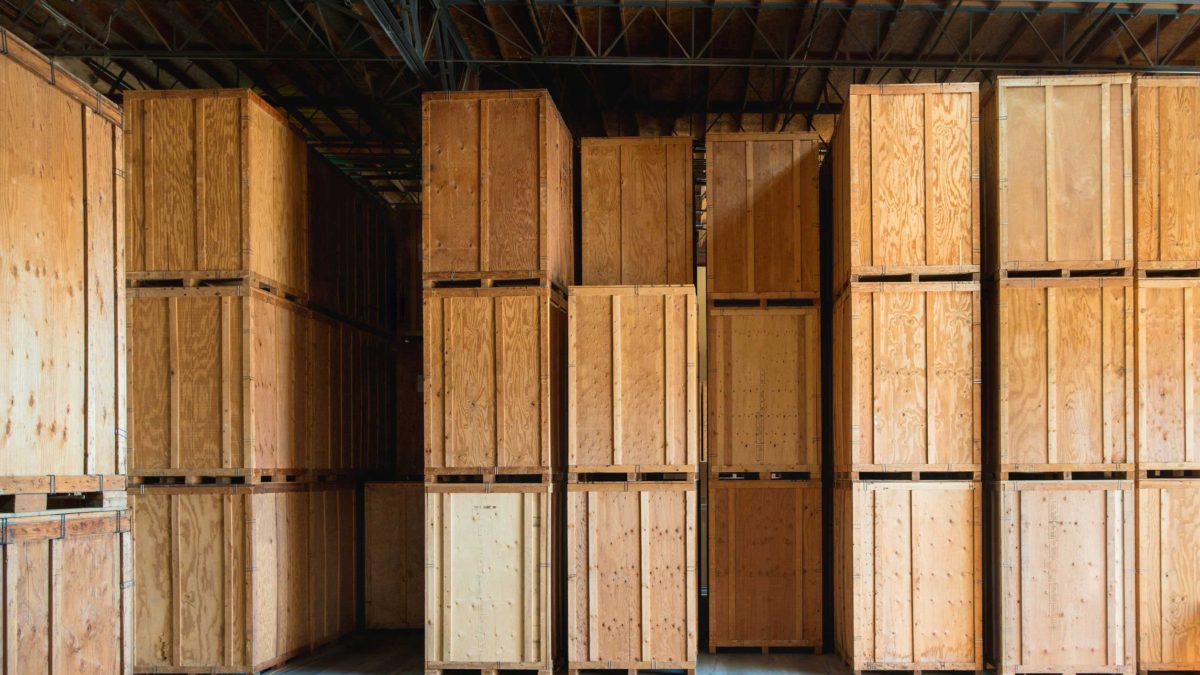 You have a product that needs to get from point A (such as your warehouse) to point B (another business or facility) and you already know you want to use a plywood shipping crate or another kind of wood container. But should you choose a box, or a crate, or even a pallet?  There are a few factors to consider in order to select the best packaging container.  
Pallet vs. Crate vs. Box?
Seems like a simple question, but important to make the distinction, particularly when reviewed strictly through packaging container needs.
Pallet: A pallet provides a decking base (only – no sides) for materials to be stacked on. Available in a multitude of sizes and grades, generally constructed of wood. Typically it is recycled.
Crate: More than a pallet, but not quite a box. Crates generally have slatted sides (though not always) and can be broken down (or assembled) easily.   
Box: a container that is fully enclosed.
It's easy to fall into confusion between crates and boxes as crates can have lids and solid sides. Well isn't that then a box? Rather than getting stuck on the semantics, it's more productive to look at your product's needs in order to safely and efficiently ship it.
What are your packaging requirements?
If you are shipping (exporting) internationally, you need to be aware that solid wood packaging material (SWPM) is regulated by the International Plant Protection Convention (IPPC) to help reduce the spread of pests (that would otherwise hide/live in wood materials).
Most specifically, you need to be sure the wood crates, boxes, or pallets you select for your packaging needs adhere to regulation ISPM-15.  For example, here at OrCon Industries, we are an ISPM-15 Certified Heat Treater.
While the same regulation isn't currently in effect for domestic shipping within the United States, there is always potential for similar legislation to be enacted, in order to mitigate the artificial spread of foreign plant pests like the Asian longhorned beetle. As a general guideline, by adhering to the international standard for SWPM, you'll also be acting as an environmental steward for U.S. plant life, and, potentially protecting your packaging investment as future domestic regulations are likely to mimic the international standard.
*Note that if any part of your product could be considered "hazardous material" that you'll also have a different set of rules and regulations to which you'll need to adhere.
Protect your product.
You'll also want to factor in what level of security (protection from theft and damage) your product requires.
Pallets offer the lowest level of protection, both in terms of damage and theft. Recommended for sturdy, larger items that are already securely boxed and just need to be stacked and wrapped on the pallet. For example, here at Orcon, we can send a team to your site to build a custom pallet and use protective wraps to fully protect your machinery in shipping.
Crates are the mid-tier option in terms of protection. Due to the slatted sides, there is a tamper and theft risk. The slatted openings could also present opportunity for damage to your product.  Though note that there are ways to mitigate this risk by employing a custom packaging solution in order to enjoy the other shipping advantages a crate offers.
Boxes are viewed as the most tamper-resistant as a person would need to put in the most effort to pry it open to gain access. The longer it takes to gain entry, the more chance a perpetrator has of being caught.  They also offer the most in the way of damage protection.
Factoring in return on investment (ROI).
Cost is obviously a major factor when choosing your shipping container. To maximize your dollar, be sure to factor in storage and reusability.
Pallets. Generally the cheapest option and easily stackable (when not in use) so there's more flexibility in how you can store them in your warehouse. Transporting pallets via pallet jacks or fork lifts is easily done.
Crates. Choosing a wood (or wood material) pallet crate is generally more economical than plastic or metal, though make sure you meet any ISPM-15 requirements. Pallet crates can also be easier to stack and store–more so if choosing collapsible crates.
Boxes. While it's the container that will generally provide the most in terms of damage protection, boxes will either eat up precious warehouse space as they sit waiting to be used, or, will take up manpower hours if you buy "ready-to-assemble" in an effort to have more on-hand for demand. Also, if your product's size specifications should change at any point in time, it may not longer fit the box you ordered.
When to contact packaging experts:
In all three cases (pallet vs. crate vs. box), you'll need to look at your overall shipping cycle to determine expected and estimated lifespan of your shipping container.
It's highly likely you may also need a multi-packaging solution to ensure your product is both protected from damage (for example, electronic parts that need to be shielded from moisture) and, packaged in a returnable container.
There's a great saying that holds true… "When in doubt, ask." Our packaging design engineers are on-hand to create and suggest packaging solutions that will fit your product, business, and budget.